I'm pretty sure you all know about
Maru
, right? He's kind of famous.
I just saw this video and it made me giggle, so thought I'd share. Even though there's a high possibility you've already seen it a few times already. The cardboard Deathstar-like kitty house is called a
Kamakura Lair
, and it's designed in Japan. Of course. Because all the cool cat stuff is in Japan. Which is why I want to go to Japan. Maybe I can even meet the famous Maru? Oh, one can only dream!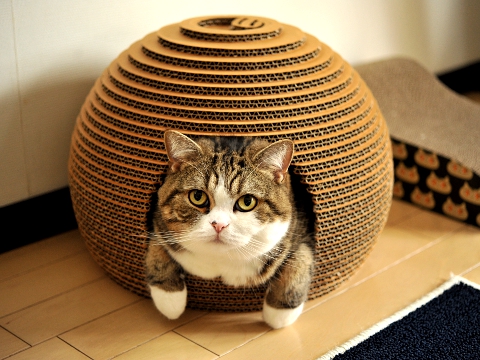 totally looks like the Deathstar, am I right?
Maru is entirely too entertaining. I have no idea how his humans keep up with his antics. I bet he's a handfull, and quite possibility have a bit of a Prima Donna attitude.
Which for some reason has made me segue into this...
PrimaDonna by Marina and the Diamonds
This is a bit of a random post, isn't it? I'm in a random mood, so it's okay. I kinda dig Marina and the Diamonds, I've blogged them
before
(2 years ago!). This particular video/song is oh so Marie Antoinette, don't you think? A modern-sixties kinda Marie with no beheading and a German Shepherd. hmmm.
with random joy,
Caren